Purpose
Please read the Disclaimers before proceeding.
This workflow is constantly being updated. Please write author with suggestions or requests.
Workflow Overview
Level: Easy. Time to complete: 2 minutes.
Recognize iGPU use
Launch Nvidia-settings
Select Preferred GPU
Reboot
Command line solution
If you are comfortable with a terminal, please skip to Command line solution to perform all these steps in seconds.
Recognize iGPU use
The Focus has a high power Nvidia Max-Q RTX GPU which is highly reliable and efficient. It should be used for demanding tasks such as Deep Learning, Video editing, or gaming. However, there are other times when we don't need all that power and would rather use the integrated GPU (iGPU) to provide longer battery life[1].
Shortly after we unplug the power cable a number of steps are taken to minimize battery drain. Here are the most obvious:
CPU: Turbo-boost is disabled (see KSysGuard)
Keyboard: LEDs are dimmed
Check GPU in-use
If the Nvidia graphics card is in use on battery power, we are notified.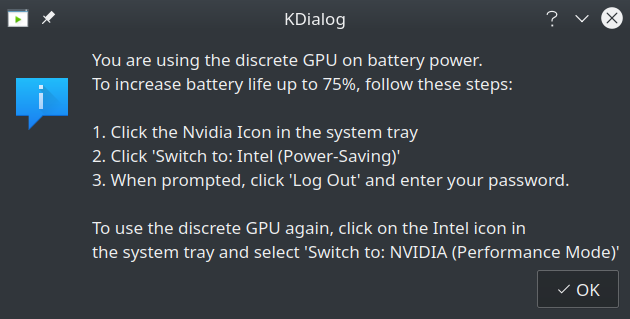 Launch Nvidia-settings
Launch the Nvdia-settings tool by using <alt>-< space> and start typing nvidia-settings.

Or using the application menu and type to search for nvidia-settings.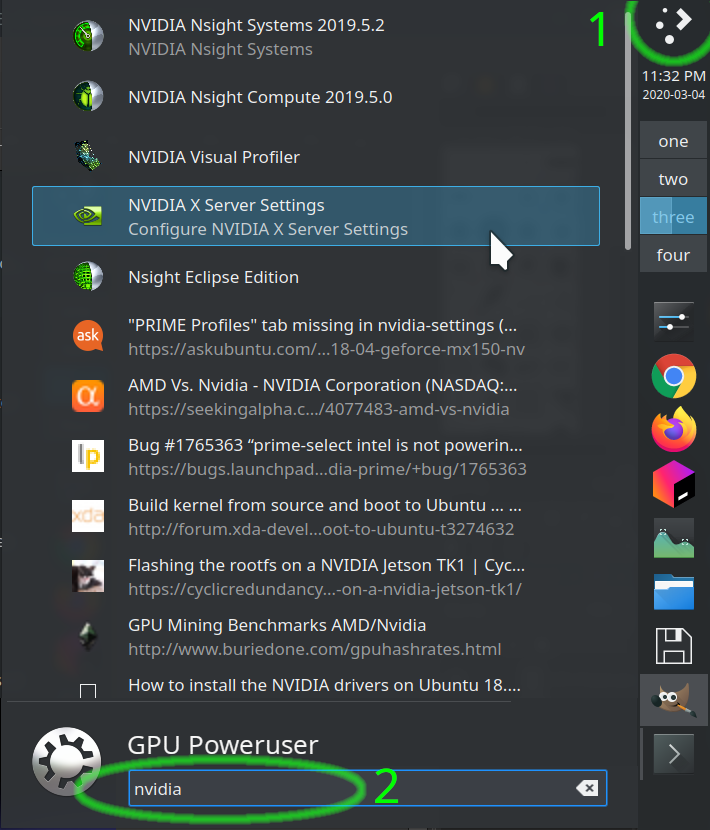 Or click through the menus to find the app.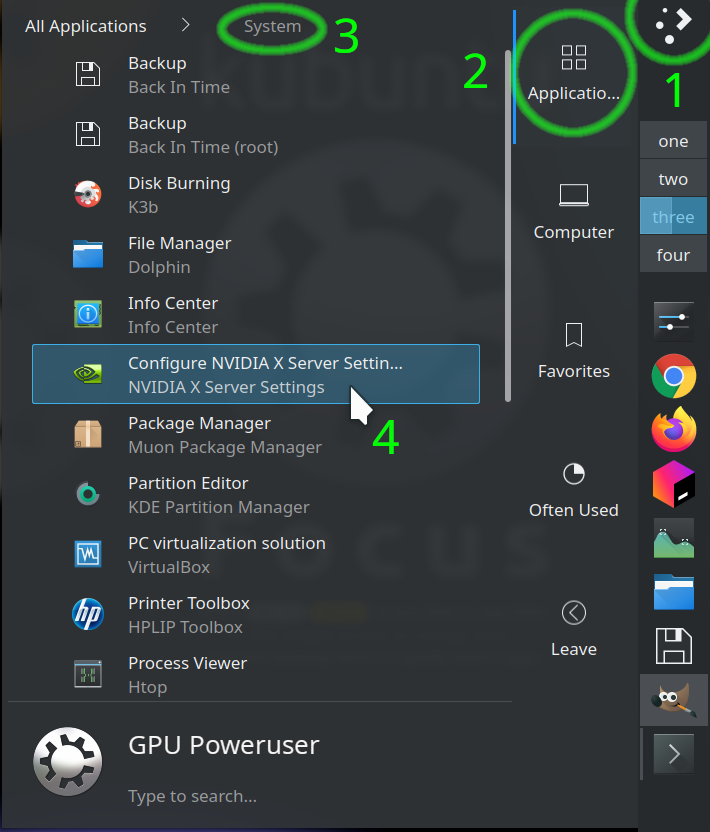 Select Preferred GPU
Click on Prime Profiles in the settings app. Then select the preferred GPU. Provide your password when prompted.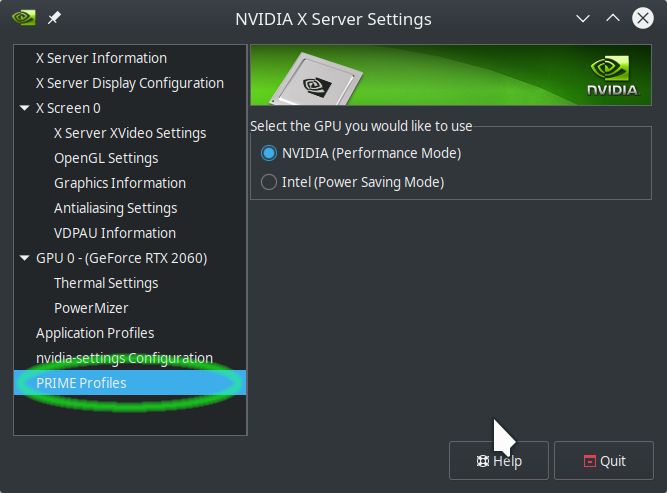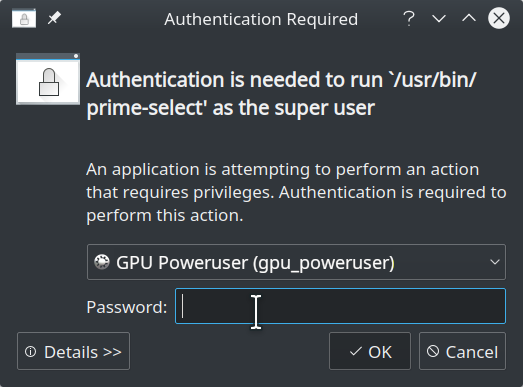 Reboot
One should reboot immediately after switching graphics to avoid artifacts and glitches. Right-click on the desktop and select Leave... and then select reboot.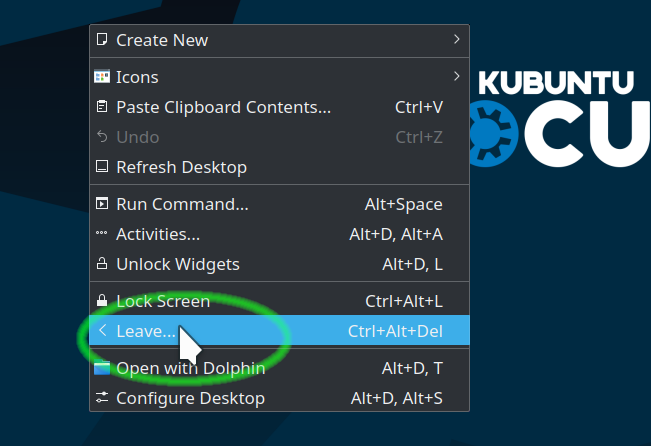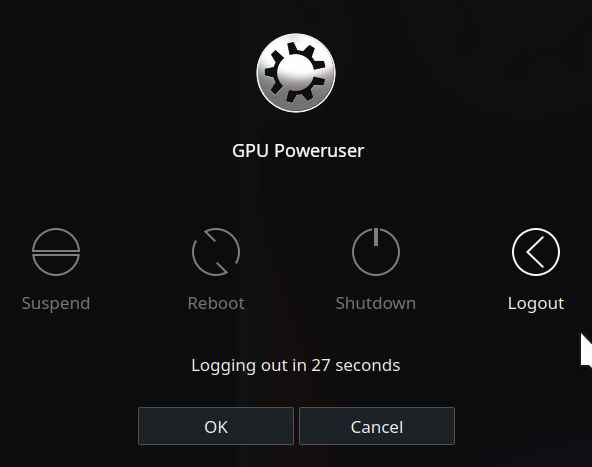 After reboot, one can use the Nvidia Settings app to confirm the GPU change.
Command-line alternative
This is much faster than the technique shown above. Use the guide below to switch between GPUs as needed. Remember to always reboot to avoid glitches.
prime-select query # Shows 'nvidia' or 'intel' prime-select intel # Select Intel iGPU (power-save) prime-select nvidia # Select Nvidia dGPU (perfomance)
Footnotes
The Focus has over 20 unique tunings to improve battery life, and can exceed 4.5 hours of battery life in real-world use (and even longer when closing the lid to sleep). This is better than most laptops we've seen with such powerful dGPUs. The RTX power features make this possible.
There is a Hybrid mode which uses both iGPU and dGPU together. However this is more complex and does not significantly improve batter life. Until we find a use case, we don't recommend or support this mode.

Hybrid mode doesn't provide significant battery improvements with the RTX graphics card but adds significantly complexity. As a results we do not reocmmend or support this mode.
Updates
2020-03-16: NA Team: Add command-line alternative
2020-03-05: NA Team: Initial Release
End
Disclaimers
We try hard to provide a useful workflow validated by professionals. However, we cannot anticipate every situation, and therefore cannot guarantee this procedure will work for your needs. Always back up your data and test the workflow to determine the correct procedure for you.
THIS WORKFLOW IS PROVIDED BY THE COPYRIGHT HOLDERS AND CONTRIBUTORS "AS IS" AND ANY EXPRESS OR IMPLIED WARRANTIES, INCLUDING, BUT NOT LIMITED TO, THE IMPLIED WARRANTIES OF MERCHANTABILITY AND FITNESS FOR A PARTICULAR PURPOSE ARE DISCLAIMED. IN NO EVENT SHALL THE COPYRIGHT OWNER OR CONTRIBUTORS BE LIABLE FOR ANY DIRECT, INDIRECT, INCIDENTAL, SPECIAL, EXEMPLARY, OR CONSEQUENTIAL DAMAGES (INCLUDING, BUT NOT LIMITED TO, PROCUREMENT OF SUBSTITUTE GOODS OR SERVICES; LOSS OF USE, DATA, OR PROFITS; OR BUSINESS INTERRUPTION) HOWEVER CAUSED AND ON ANY THEORY OF LIABILITY, WHETHER IN CONTRACT, STRICT LIABILITY, OR TORT (INCLUDING NEGLIGENCE OR OTHERWISE) ARISING IN ANY WAY OUT OF THE USE OF THIS WORKFLOW, EVEN IF ADVISED OF THE POSSIBILITY OF SUCH DAMAGE.