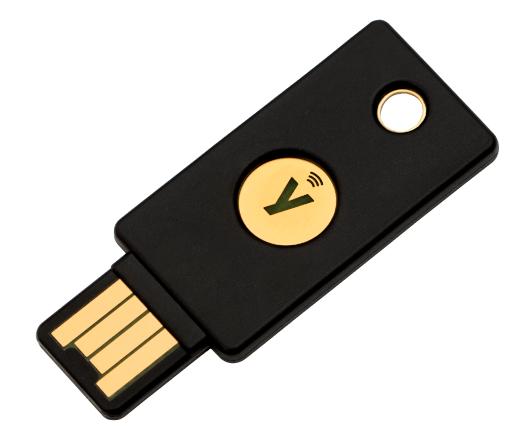 If you purchased a pre-configured YubiKey you won't need this except to change your password. The YubiKey documentation may be found at here.
1. Setup
# Become the root user sudo -i; # Confirm the encrypted partition ls /dev/nvme0n1p3; # Find an open LUKS key slot # Slots 1-7 show as open cryptsetup luksDump /dev/nvme0n1p3;
2. Install Necessary Packages
apt install yubikey-luks
3. Configure YubiKey
Insert the YubiKey into a USB slot. The center LED should flash once. It will not stay illuminated. As you use the key, the LED will flash under other circumstances.
ykpersonalize -2 -ochal-resp \ -ochal-hmac -ohmac-lt64 -oserial-api-visible; #> #> Firmware version 5.2.4 Touch level 1283 Program sequence 3 #> #> Configuration data to be written to key configuration 1: #> #> fixed: m: #> uid: n/a #> key: h:50d779456fb7325fd91f2c543092b5178c4174cd #> acc_code: h:000000000000 #> OATH IMF: h:0 #> ticket_flags: CHAL_RESP #> config_flags: CHAL_HMAC|HMAC_LT64 #> extended_flags: SERIAL_API_VISIBLE # #> Commit? (y/n) [n]: y
4. Create Config File (Optional)
The default /etc/ykluks.cfg file should be fine. However, you may customize it as you see fit.
5. Save LUKS Config to Key Slot
Enroll your YubiKey to a LUKS slot:
# Enroll to slot. If slot is taken, try the next with -s 2 yubikey-luks-enroll -d /dev/nvme0n1p3 -s 1; #> setting disk to /dev/nvme0n1p3. #> setting slot to 1. #> This script will utilize slot 1 on drive /dev/nvme0n1p3. If this is not what you intended, exit now! #> Adding yubikey to initrd #> Please insert a yubikey and enter a new password. This is the password that will only work while your yubikey is installed in your computer. **************** #> Please enter the yubikey password again: **************** #> You may now be prompted for an existing passphrase. This is NOT the passphrase you just entered, this is the passphrase that you currently use to unlock your LUKS encrypted drive. #> Enter any existing passphrase:
Enter an EXISTING disk passphrase.
6. Modify Crypt Table
Modify /etc/crypttab to include the keyscript option as shown. IMPORTANT! THE DISK UUID YOU SEE WILL BE DIFFERENT - DO NOT CHANGE IT! Also make sure the entry is on a single line in the file, even if it wraps in the codeblock below.
nvme0n1p3_crypt UUID=98cfc3a4-dfd8-4cb4-8016-a3a62649d5a0 none luks,keyscript=/usr/share/yubikey-luks/ykluks-keyscript,discard
You can verify or recover the UUID by using lsblk --fs |grep 'crypto_LUKS' and then using the uuid of the correct volume. The partion for standard installations is typically /dev/nvme0n1p3.
7. Update System RAM Disk
# update the initial Ramdisk update-initramfs -u; # Append `-k all` to update all kernels.
8. Reboot and Test
Reboot and insert YubiKey on the initial passphrase screen to test your password. You should be able to use your YubiKey passphrase or your regular passphrase. We suggest you always keep the first passphrase but ensure it is long and complex. This provides a method to use the system even if you lose your YubiKey. As always, store your passphrases safely.