Purpose
Please read the Disclaimers before proceeding.
Workflow Overview
Print to file
Print to device
Okular: View PDF files
PDF Shuffler: Edit PDF Files
pdfshrink: Compress PDF files
Print to File
Printing to paper or other media isn't required very often these days. With the advent of email and instant messaging it is often easier to take a snapshot of content and send it electronically. One may make screen casts, take image snapshots, or print to a file.
This last option has certain advantages over other snapshot techniques. Perhaps most importantly, a PDF "knows" that it is a text document and therefore can be searched and index accordingly. Compare this to a video or generic image where extracting the text content can be a nightmare.
Any application that can print to a device can also print to a PDF file. We won't go into technical details, but trust us, we're not pulling your leg.
Most applications in Kubuntu use the system print interface shown in below.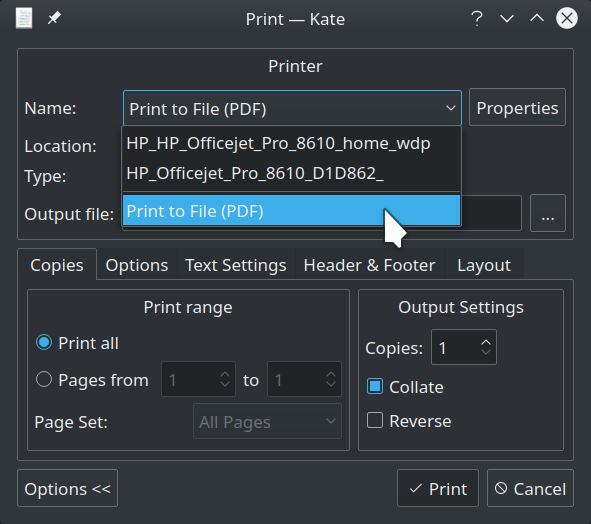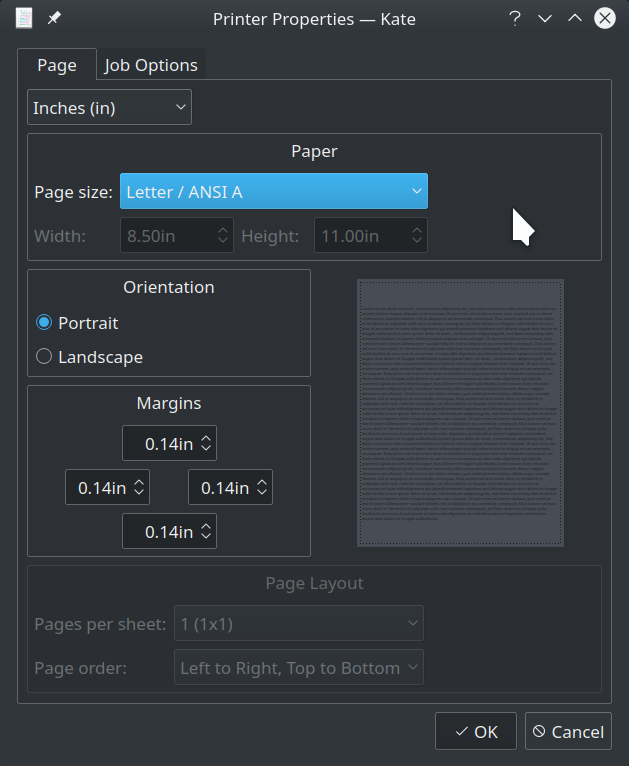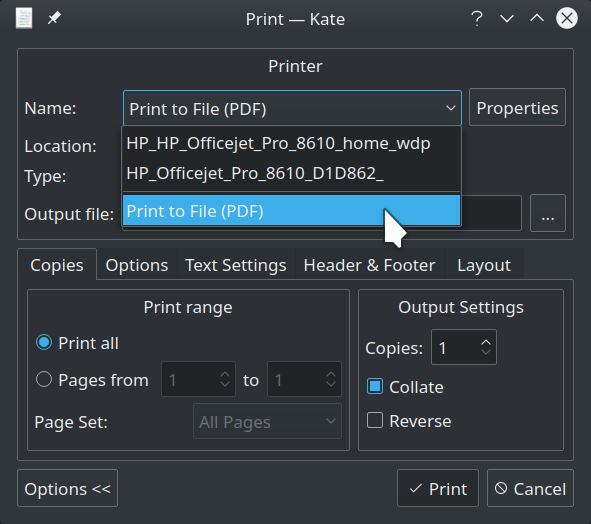 Some applications have systems that provide more PDF options before actually writing to a file. Two examples are LibreOffice and Chrome. First, we look at the direct export in LibreOffice and then the more advanced options.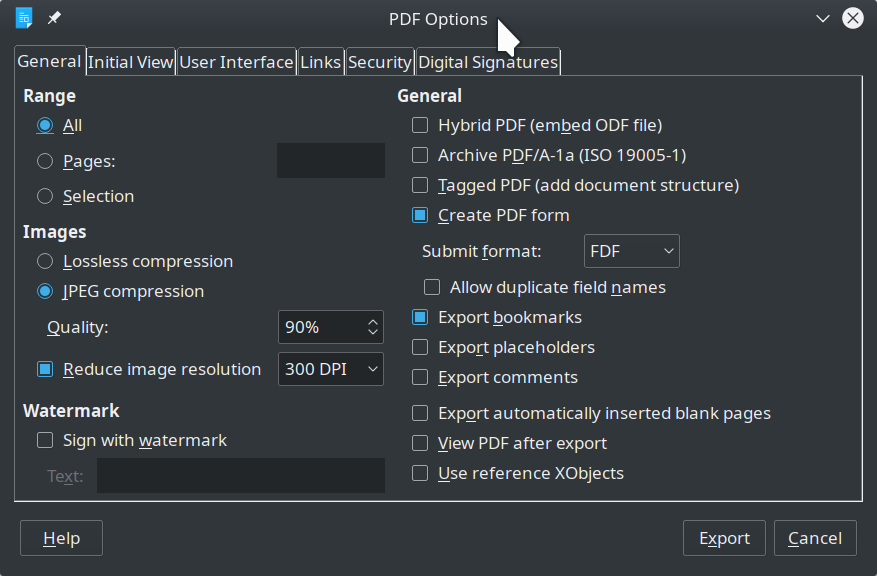 Next we look at Chrome printing options. Notice how background images are not printed by default. This help save on ink.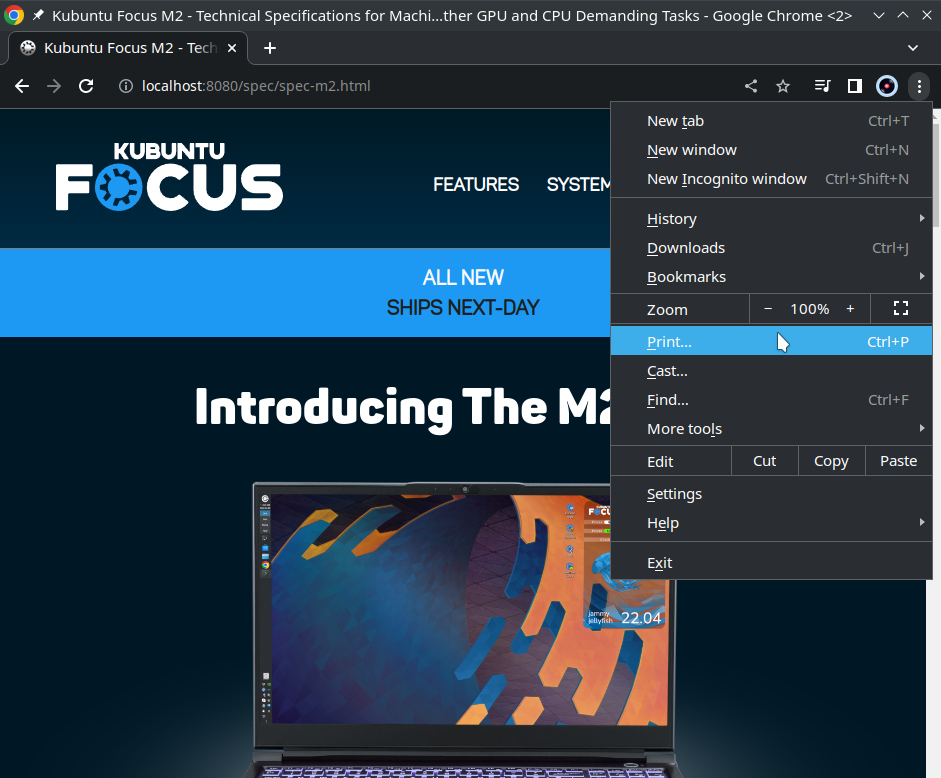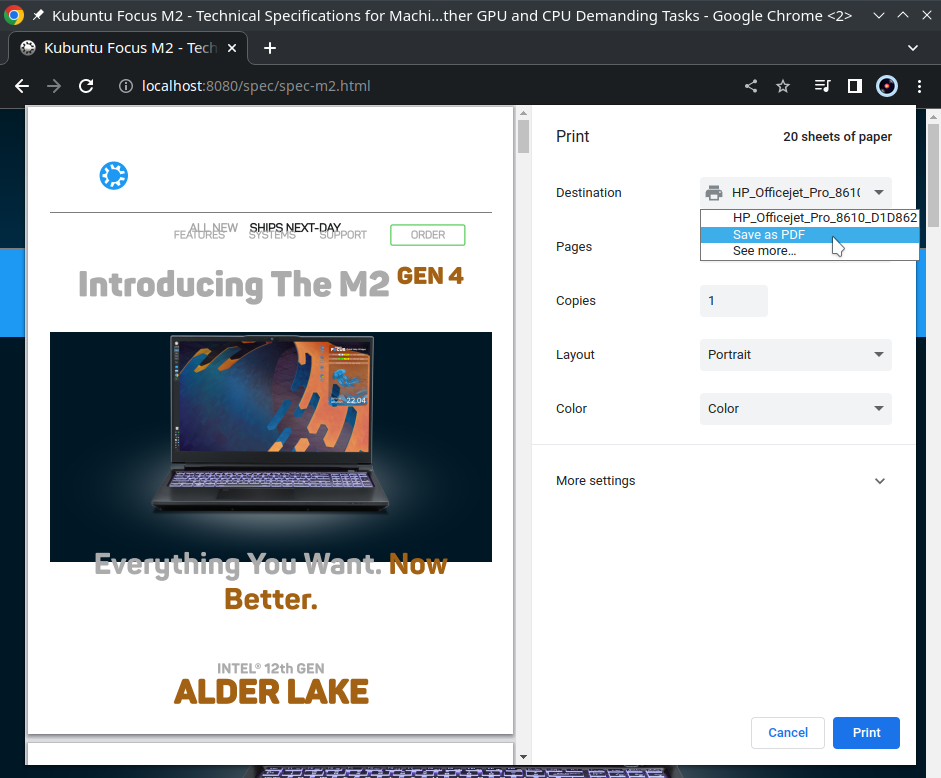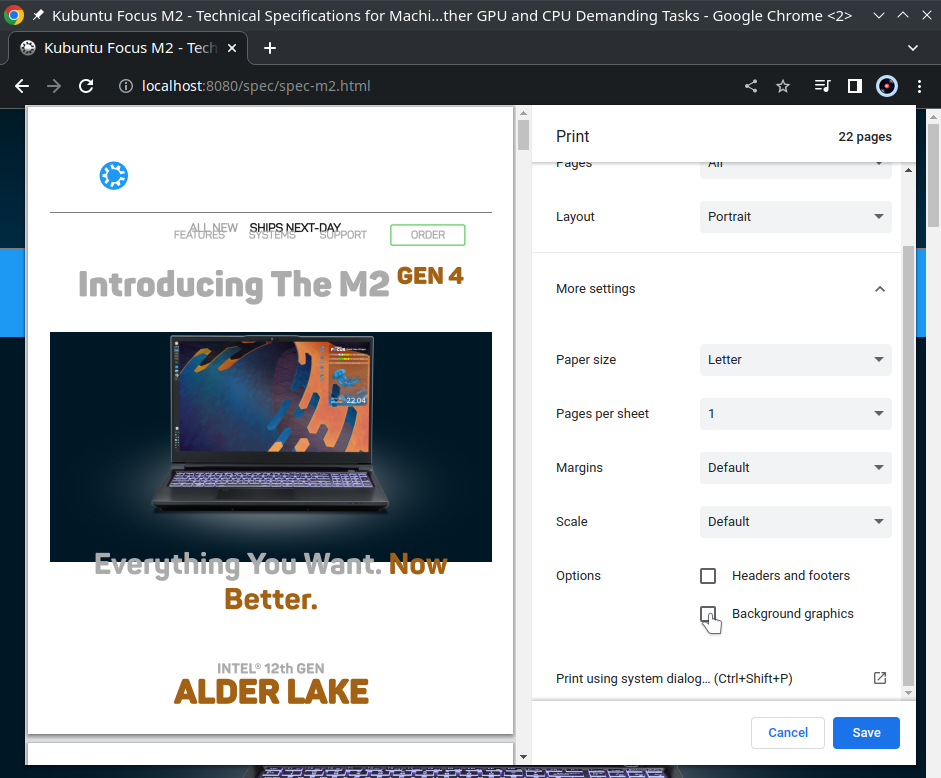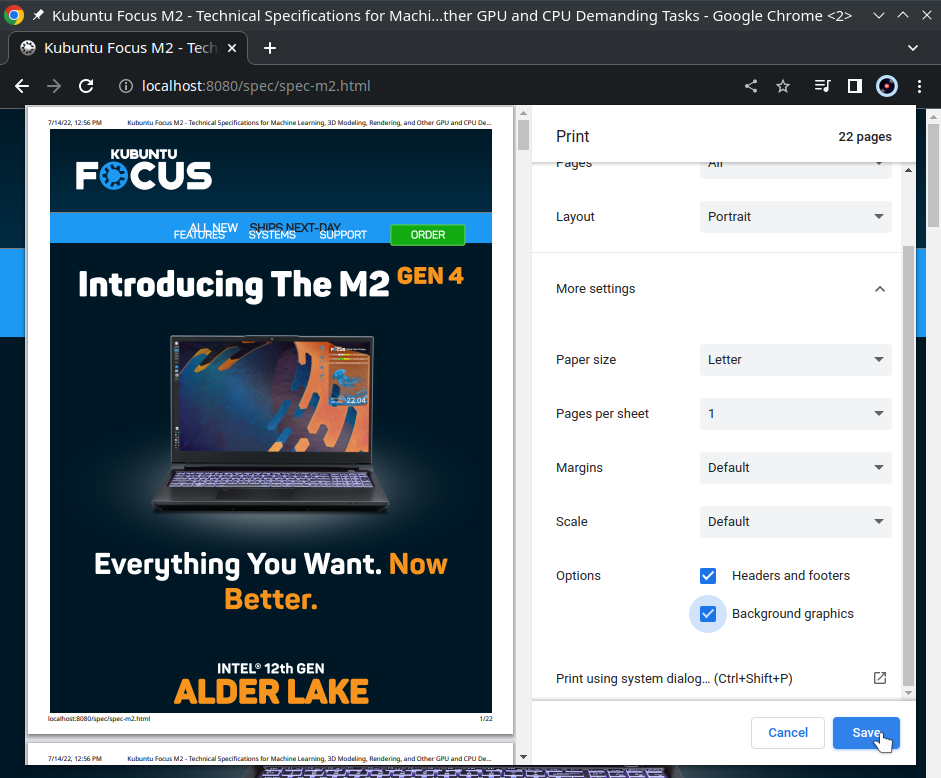 Print to Device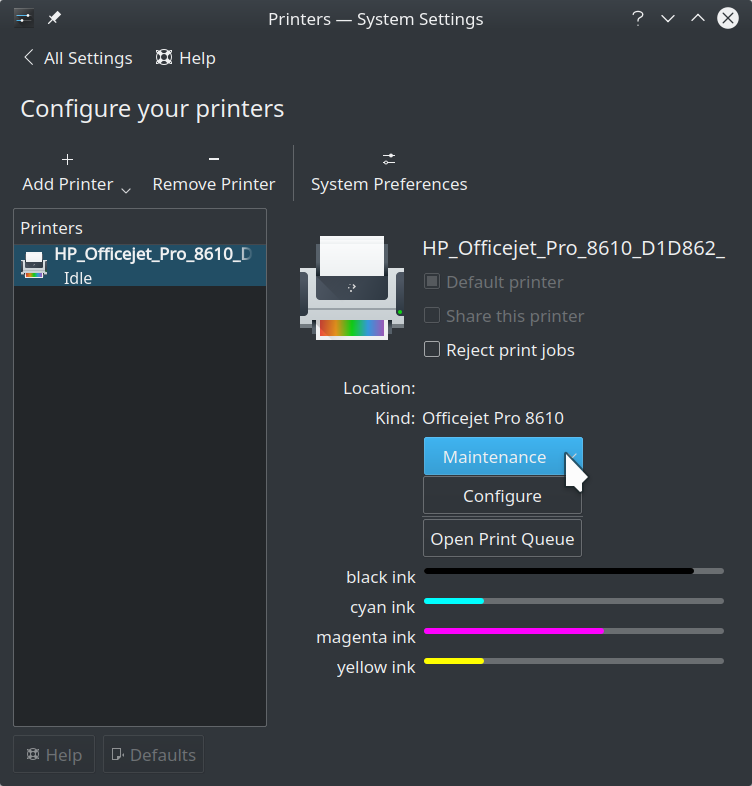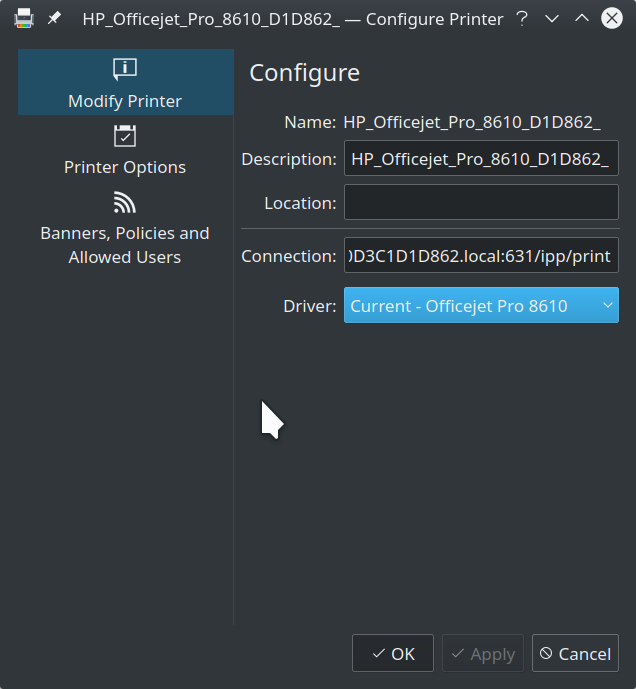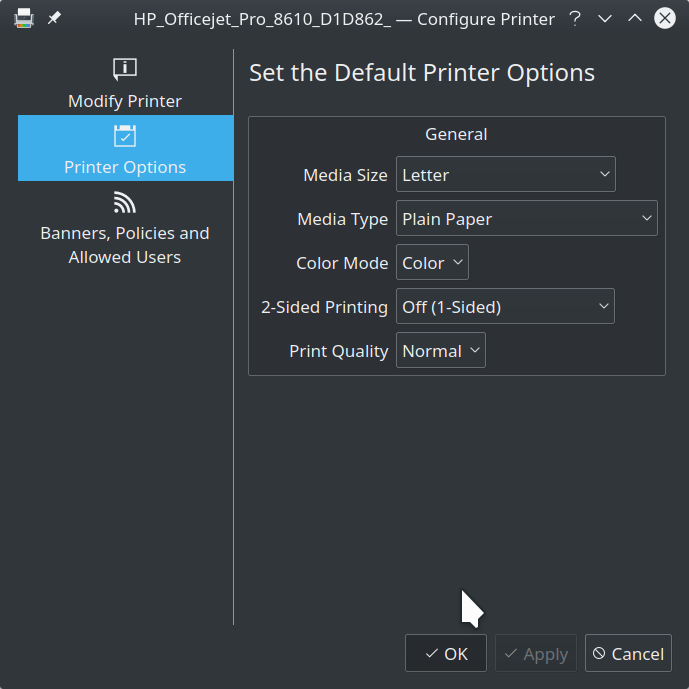 Okular: View PDF files
Okular is the default PDF viewer for Kubuntu. It has support for virtually all PDF features. Adobe Acrobat is also available.
PDF Shuffler: Edit PDF files
PDF Shuffler is installed to allow you to rearrange, remove, or add pages to a PDF document.
shrinkpdf: Compress PDF files
We have added a little script called shrinkpdf which can reduce a PDF file size to 5-10% of the original, although it will vary by file). It does this by lowering image quality to screen view levels and is noticeable only when printed to paper.
Use HPLIP
HP Linux Imaging and Printing (HPLIP) is a suite of tools provided by HP for their hardware. We don't recommend using HPLIP unless you need advanced control over HP hardware.
Most features on HP hardware are now supported directly by KDE applications. Even using advanced features (like document feeder) and alternate functions (like scanning - see SkanLite) do not need any additional software.
But sometimes, HPLIP provides capabilities over HP hardware that is not supported elsewhere. A great example is Fax support, or more esoteric printer features. If you need these, then HPLIP is standing by. Installation steps are shown below.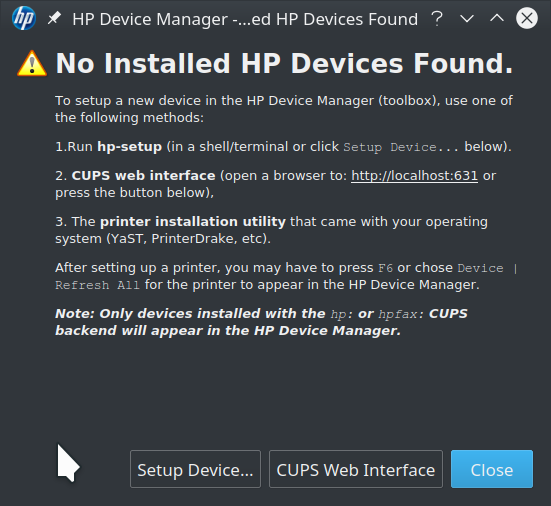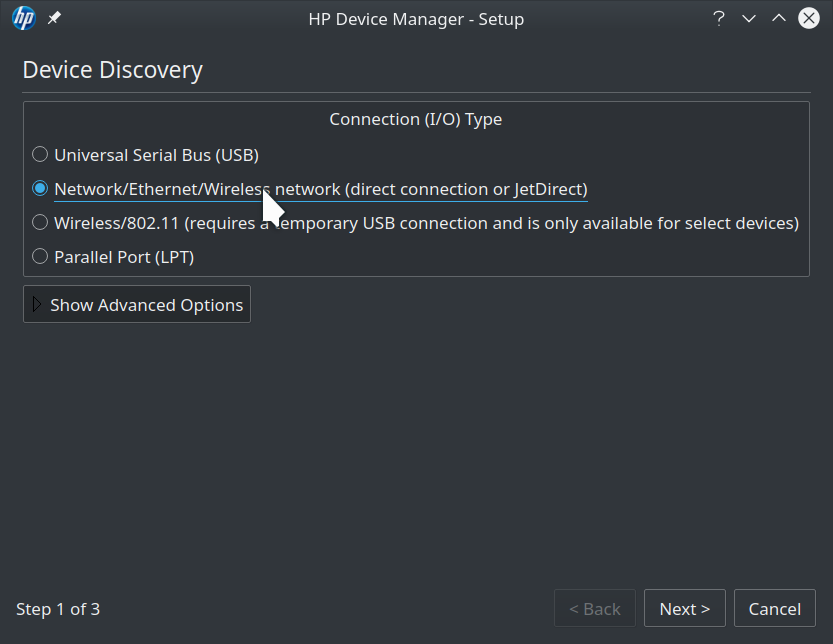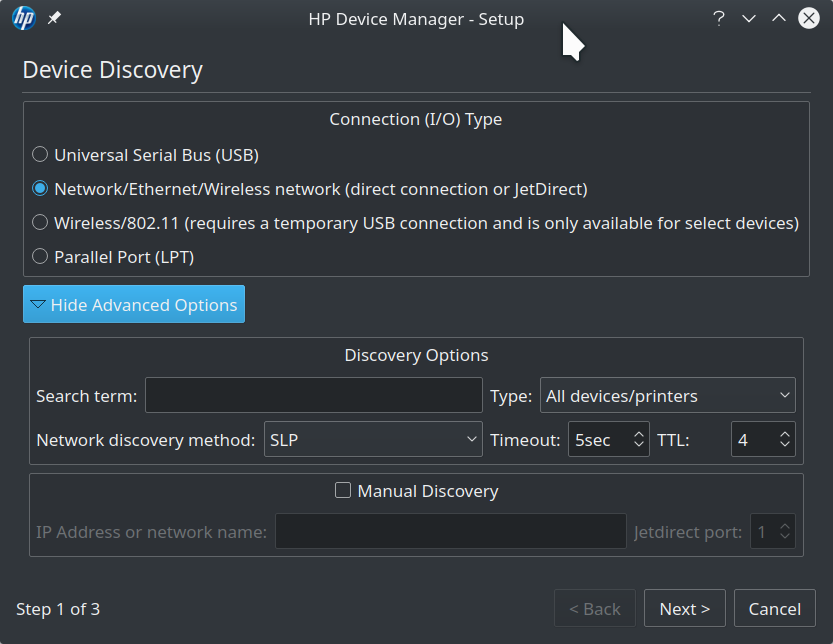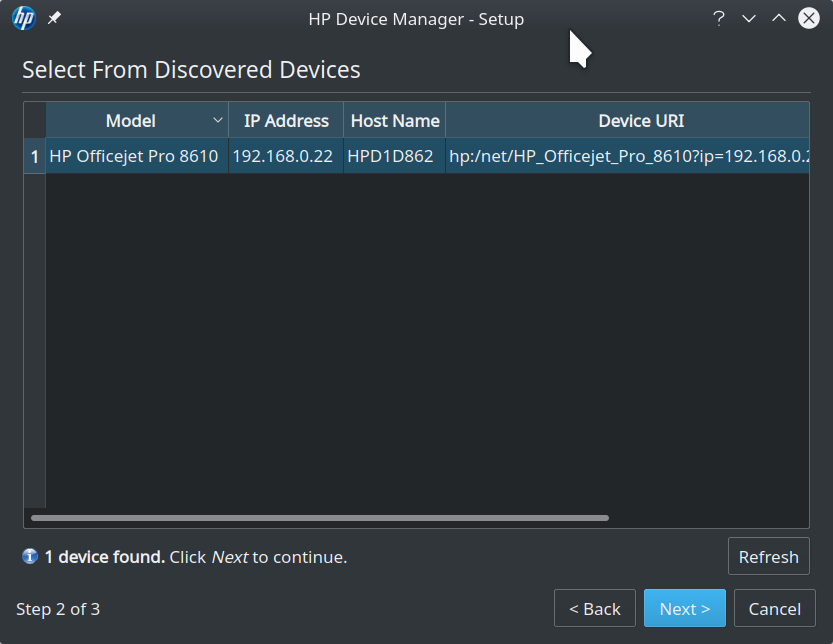 End
Disclaimers
We try hard to provide a useful workflow validated by professionals. However, we cannot anticipate every situation, and therefore cannot guarantee this procedure will work for your needs. Always back up your data and test the workflow to determine the correct procedure for you.
THIS WORKFLOW IS PROVIDED BY THE COPYRIGHT HOLDERS AND CONTRIBUTORS "AS IS" AND ANY EXPRESS OR IMPLIED WARRANTIES, INCLUDING, BUT NOT LIMITED TO, THE IMPLIED WARRANTIES OF MERCHANTABILITY AND FITNESS FOR A PARTICULAR PURPOSE ARE DISCLAIMED. IN NO EVENT SHALL THE COPYRIGHT OWNER OR CONTRIBUTORS BE LIABLE FOR ANY DIRECT, INDIRECT, INCIDENTAL, SPECIAL, EXEMPLARY, OR CONSEQUENTIAL DAMAGES (INCLUDING, BUT NOT LIMITED TO, PROCUREMENT OF SUBSTITUTE GOODS OR SERVICES; LOSS OF USE, DATA, OR PROFITS; OR BUSINESS INTERRUPTION) HOWEVER CAUSED AND ON ANY THEORY OF LIABILITY, WHETHER IN CONTRACT, STRICT LIABILITY, OR TORT (INCLUDING NEGLIGENCE OR OTHERWISE) ARISING IN ANY WAY OUT OF THE USE OF THIS WORKFLOW, EVEN IF ADVISED OF THE POSSIBILITY OF SUCH DAMAGE.