Purpose
Please read the Disclaimers before proceeding.
This workflow is constantly being updated. Please write author with suggestions or requests.
Workflow Overview
Enable Bluetooth
Bluetooth is not powered-on by default on the Focus to minimize power drain and heat. However, it is trivial to enable. Open
and click the enable button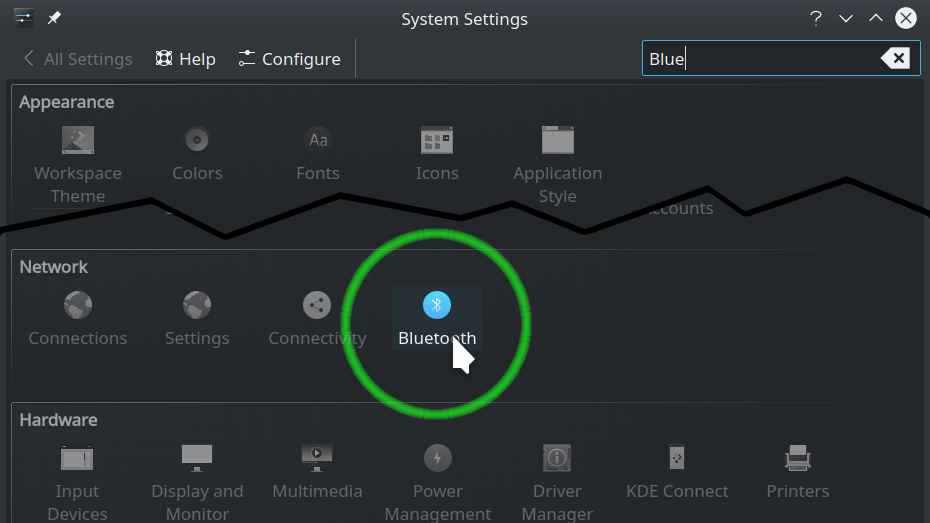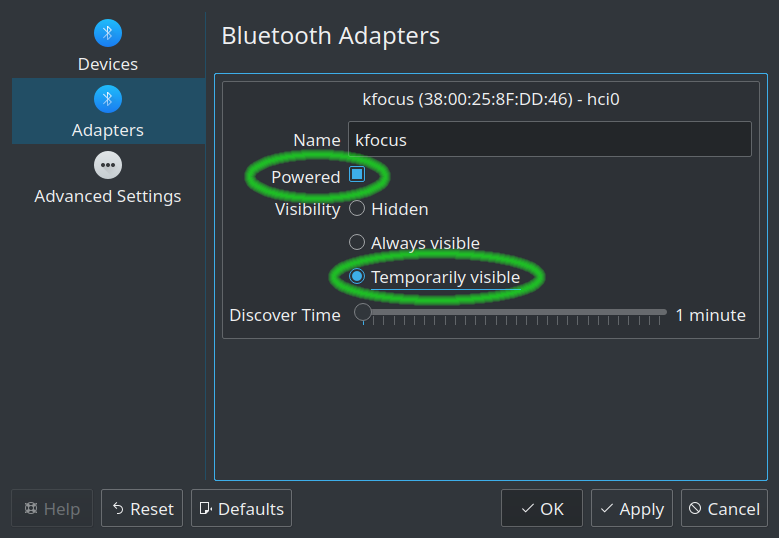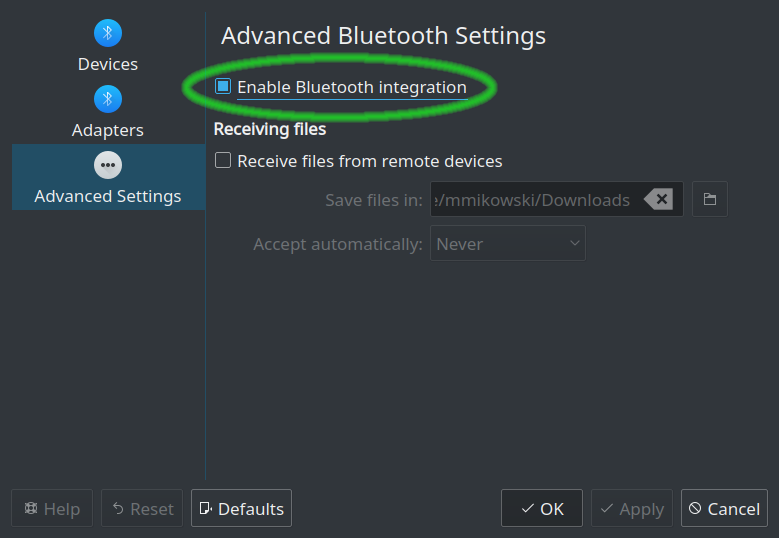 Add Bluetooth Device
Bluetooth devices take a minute or more to be recognized. Set your device in pairing mode and select it from the list.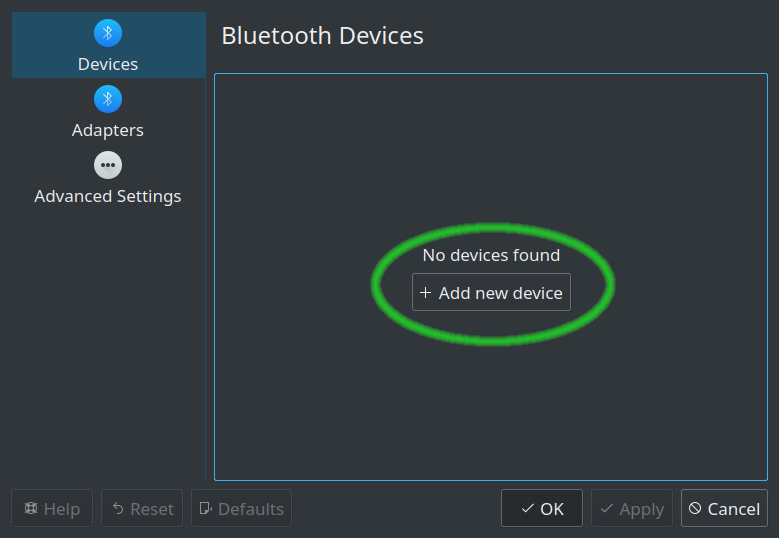 Route output to BlueTooth device
Open
Pulse Audio Volume Control to select the desired output device.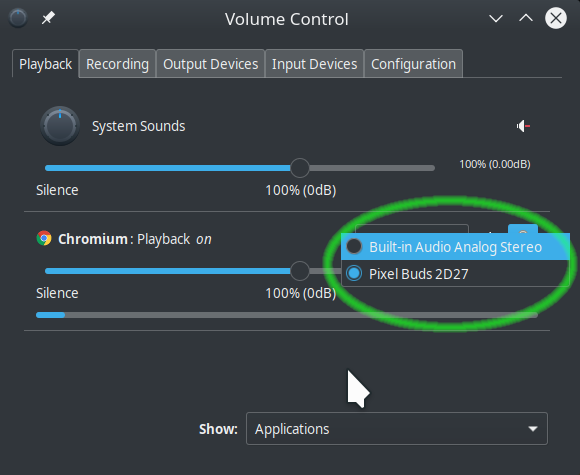 Crank up the volume
One can use
Pulse Audio Volume Control or the standard volume widget to crank or un-crank volume as required.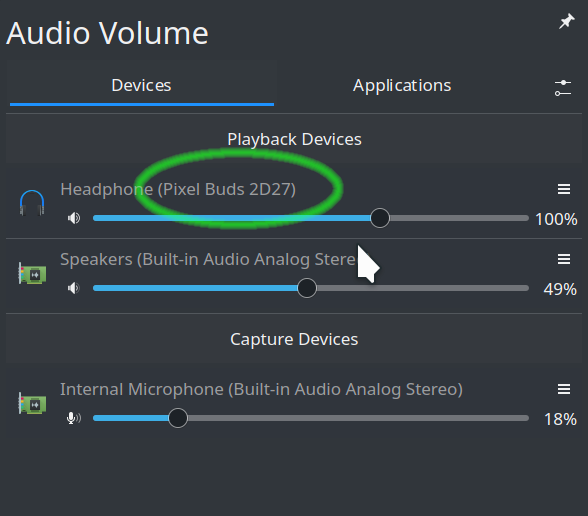 Connect again
Once your device is recognized, use the BlueTooth control found in the system tray at the bottom right of the desktop to connect again.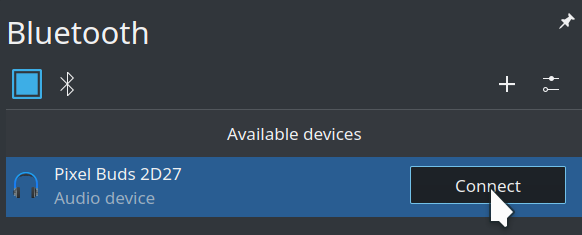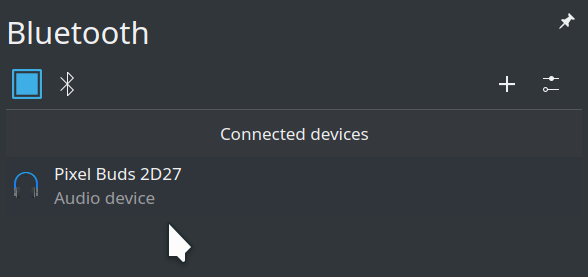 End
Disclaimers
We try hard to provide a useful workflow validated by professionals. However, we cannot anticipate every situation, and therefore cannot guarantee this procedure will work for your needs. Always back up your data and test the workflow to determine the correct procedure for you.
THIS WORKFLOW IS PROVIDED BY THE COPYRIGHT HOLDERS AND CONTRIBUTORS "AS IS" AND ANY EXPRESS OR IMPLIED WARRANTIES, INCLUDING, BUT NOT LIMITED TO, THE IMPLIED WARRANTIES OF MERCHANTABILITY AND FITNESS FOR A PARTICULAR PURPOSE ARE DISCLAIMED. IN NO EVENT SHALL THE COPYRIGHT OWNER OR CONTRIBUTORS BE LIABLE FOR ANY DIRECT, INDIRECT, INCIDENTAL, SPECIAL, EXEMPLARY, OR CONSEQUENTIAL DAMAGES (INCLUDING, BUT NOT LIMITED TO, PROCUREMENT OF SUBSTITUTE GOODS OR SERVICES; LOSS OF USE, DATA, OR PROFITS; OR BUSINESS INTERRUPTION) HOWEVER CAUSED AND ON ANY THEORY OF LIABILITY, WHETHER IN CONTRACT, STRICT LIABILITY, OR TORT (INCLUDING NEGLIGENCE OR OTHERWISE) ARISING IN ANY WAY OUT OF THE USE OF THIS WORKFLOW, EVEN IF ADVISED OF THE POSSIBILITY OF SUCH DAMAGE.